Tokyo is a seriously fun city with stuff to do for everyone! Whether you love drinking, shopping, eating, witnessing crazy stuff, Tokyo has it all! Here is a list of things we did in Tokyo. By no means is this an exhaustive list of things to do in Tokyo, but at least this was the stuff we enjoyed in the city.
Before we begin, if you're looking for a fantastic hotel to stay in, that is centrally located, we recommend the Tokyo Prince Hotel. In fact, they probably have the best buffet in Tokyo, Japan.
Anyway, here's our list of top things to do in Tokyo.
1. Visit A Microbar
What's a microbar? It's exactly what it is…a tiny hole in the wall that seats no more than 4 people and serves some of the best alcohol in the world! Well, at least you'll get your share of Japanese Whiskey.
Fair warning, microbars should not be visited by those who have claustrophobia.
Where Do I Find A Microbar In Tokyo?
There's a lane in Shibuya that's full of microbars. I'm sure there are other locations too, but this is the most convenient according to me.
2. Visit The Tsukiji Fish Market
The Tsukiji Fish Market is the world's biggest fish and seafood wholesale market (and also one of the largest wholesale food markets of any kind)! The fish market is a huge tourist attraction for two reasons.
Tourists are allowed to witness live auctions of fish and seafood. Apparently, bids go as high as US $20,000 for some varieties of tuna!
The fish market has some of the best sushi restaurants in the world that serve the freshest, most delectable sushi that I've ever eaten.
The only drawback to this action is happens between the hours of 2 AM and 12 noon. The fish auction starts around 4, so if you're planning to see it, be at the market at or before 2 AM. Once that's over, line up outside a restaurant to grab some breakfast sushi. Restaurants open at 6 or 7 AM, but the lines start forming at 4 AM. By 6 AM, the wait is longer than an hour! Most restaurants shut by 12 noon.
Tokyo Photo Gallery
3. Go To The Robot Restaurant
The biggest, and very expensive, tourist trap. Read more about our experience at the Robot Restaurant here.
4. Visit A Cat Cafe
Another poor decision. Well, it's fun if you're a cat person. But let's be honest, cats don't always care for human company. So, I love animals but not if they keep rejecting my affections. Cats. Pttfff!
Our Cat Cafe Experience
5. Try Your Hand At Pachinko
You're never too old to visit a gaming arcade, especially if you're in Tokyo. Tokyo's lack for trash cans on the streets was duly made up by the ubiquitous presence of gaming arcades; they were in every corner! Of course we ended up playing a whole bunch of arcade games and even tried our hand at Pachinko, a Japanese form of pinball.
6. Visit Akihabara
Are you big on anime? Toy figures? Collectibles? Video games? Gadgets? Tech stuff? Then head over to Akihabara, Tokyo's infamous anime district and indulge yourself in all things anime and tech. Just FYI, Akihabara is huge! So allocate time accordingly.
Tokyo Photo Gallery
7. Walk The Shibuya Crossing
Before you head to those microbars, pay a visit to the Shibuya crossing. Probably the busiest pedestrian crossing in the world, made famous by the movie Lost In Translation. The energy at the crossing is absolutely incredible. After you're done crossing the street (multiple times), get a better view of the madness from the Starbucks across the station.
8. See Sakura at Shinjuku & Uoen Gardens
Tokyo has some of the most beautiful gardens that I've ever seen! And visiting them during the cherry blossom season was the icing on the cake! From the ones we visited, the Shinjuku Garden and the Ueno Garden really made our time in Tokyo extra special. Go find your inner zen in these gardens!
9. Walk Around Marunouchi & The Imperial Palace
Marunouchi is a central commercial district of Tokyo located in Chiyoda between Tokyo Station and the Imperial Palace. The whole district has this uber-luxurious vibe. Clean-cut architecture, large open spaces, perfectly manicured trees around the Imperial Palace…everything felt clean and crisp. In fact, it was the only district in Tokyo that didn't really feel like Tokyo. Make sense?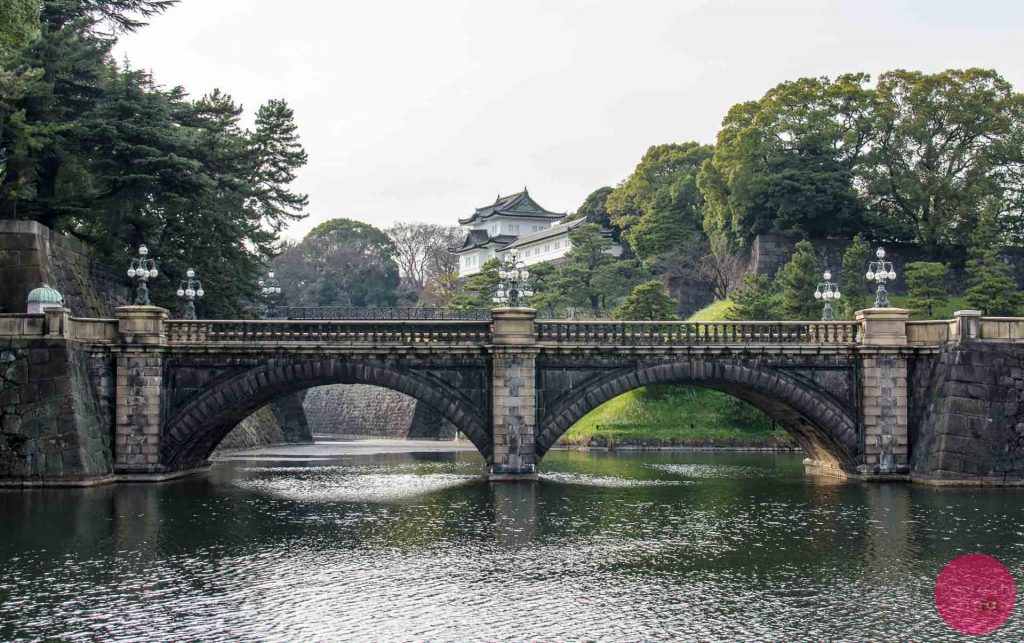 10. Visit The Meiji Shrine
Visited the most peaceful and beautiful shrine right in the heart of the city. Seriously, it felt like we were far, far away from Tokyo while we were inside.
---
---
You might also like