The Pancake Rocks & Blowholes at Punakaiki was the first tourist attraction that we visited on New Zealand's South Island. We'd just gotten off the TranzAlpine Train in Greymouth and were looking for a local attraction. The good folks at our motel pointed us in the direction of Punakaiki, a 40 minute drive from Greymouth. Punakaiki is a small community on the west coast of the South Island of New Zealand, between Westport and Greymouth. It is known for the Pancake Rocks at Dolomite Point south of the main village.
Apparently other than their sunsets, there's not much else to see in Greymouth.
Greymouth to Punakaiki Drive
The drive from Greymouth to Punakaiki is absolutely beautiful. Once you get away from the town, the road runs along the coast all the way to the Pancake Rocks. The sign for the Pancake Rocks  are hard to miss, and there's ample parking space along the road.
Here's a short timelapse of our drive back from the Pancake Rocks to the outskirts of Punakaiki.
Pancake Rocks & Blowholes Walk
Once you arrive at the destination, park anywhere next to the cafe. Make your way down to the Pancake Rocks & Blowholes walk. The walk is a 1.1 km loop around the Pancake Rocks and Blowholes. With the exception of a few steps, the path is easy to access even on wheelchair. Covering the whole path can easily take 30-45 minutes.
The best time to visit the Blowholes is during high tide, when the water gushes out of them with every wave!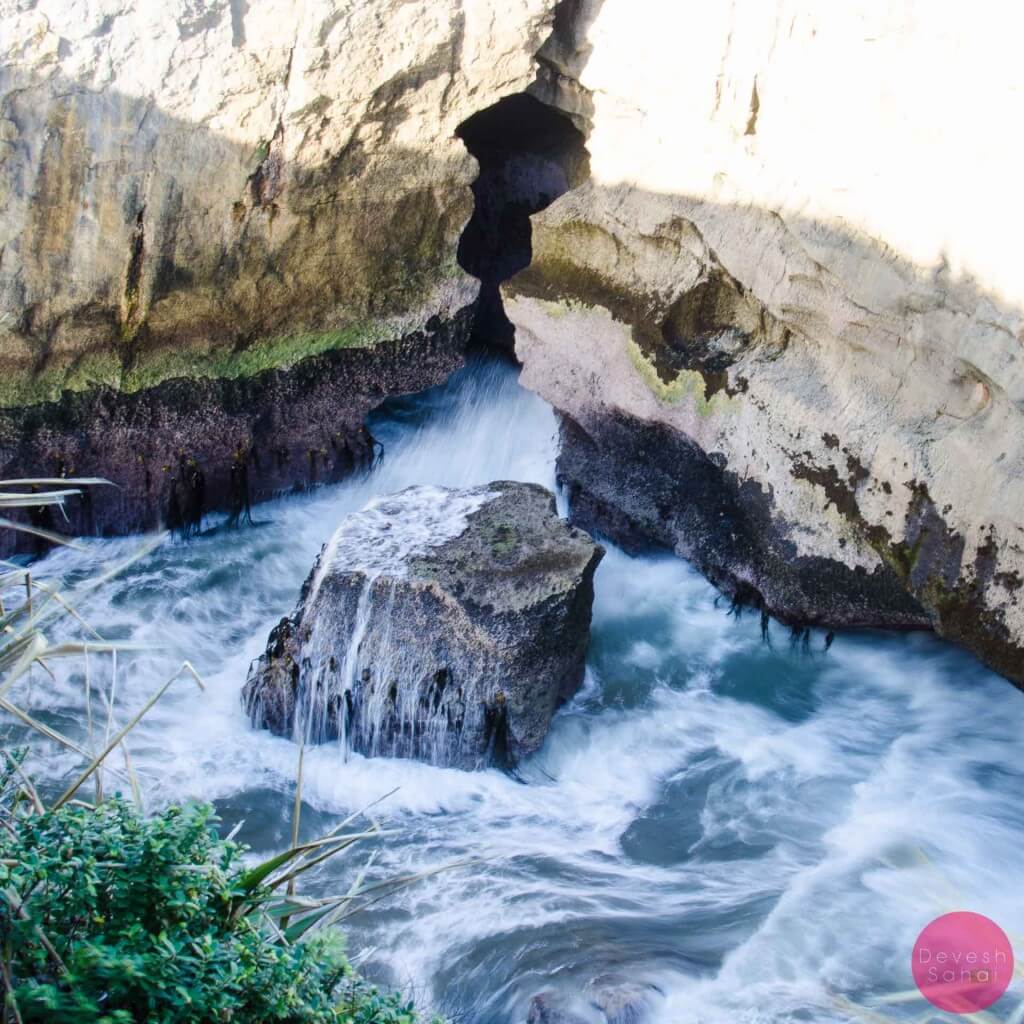 Pancake Rocks & Blowholes Geology
The rocks are a heavily eroded limestone area where the sea bursts through several vertical blowholes during high tides. The pancake-layering of the limestone was created by immense pressure on alternating hard and soft layers of marine creatures and plant sediments over 30 million years ago. Apparently, this type of arrangement of limestone is called stylobedding.
Punakaiki Accommodation
We stayed at the Alpine Rose Motel in Greymouth. There's a low probability that you'll require an accommodation at Punakaiki, to be honest. Most tourists arrive at Greymouth on the TranzAlpine Train.
---
---
You might also like