Macau is a 30-45 minute ferry ride across the Pearl River estuary from Hong Kong. What was one an ancient Portuguese colony is now a bustling city filled with casinos, fancy high rises and even fancier high rollers!
If you have just a day to spend in Macau, here are my top recommendations.
1. Visit A Casino
Macau is all about the casinos. There are casinos everywhere in the city. From the Venetian to Sands!
And more recently Macau has become the de-facto location for major music performances, and shows given Hong Kong's limited space for big events. However, having been there on numerous occasions I can say that there is more to Macau then the glitz and glamour of being termed as the Las Vegas of the Orient. Which is actually funny because Macau is the world's largest gambling centre.
So Las Vegas should be called the Macau of the West?
2. Discover Old Macau
Macau was a Portuguese overseas territory right until 1999. It's colonial past can be discovered in the old part of town, through its food and languages, which is now a strange mix of Portuguese, English and Mandarin.
Walk down Senado Square (UNESCO Historic Centre of Macau World Heritage Site), the main public square where all the shops and restaurants are located, and you're reminded of a small European town (if you can ignore the over-towering casinos in the neighbourhood).
Walk down the narrow alleys till you reach the iconic ruins of St. Paul's Church, which is now a museum. And don't forget to grab Macau's specialty, an egg tart! Also worth checking out is the Fortaleza do Monte (Mount Fortress) which sits besides the facade of St. Paul's.
Macau Photo Gallery
3. Eat At A Portuguese Restaurant
A Lorcha
Having been to Macau a couple of times now, the first thing we do is find a good Portuguese restaurant. My two favourites are A Lorcha (289 R. do Alm. Sergio) and Fernando's (9 Praia de Hac Sa, Macau). Personally I feel that A Lorcha has better food. I love the decor (reminds me of some of the restaurants back on the Iberian peninsula) and because it's centrally located, it's a lot easier to get to.
Fernando's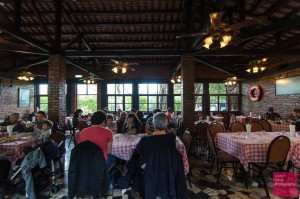 Fernando's comes a close second – the food is equally authentic but it's located at the southern end of the second island. It's quite a pain to get there if you take the TurboJet ferry. But because it's located far away, it's bigger and more quaint. The atmosphere, combined with the food definitely makes it worth a visit.
4. Go Bungee or Skywalk
Macau is home to the highest bungee drop in the world. At 233 metres, bungee jumpers can experience the thrill that no other place offers.
But fear not, if you're too scared to bungee (like me) you can always do the Skywalk. Check out my review of the skywalk for more information.
---
---
You might also like
---